I just wanted to post something that I haven't done before so I thought lets have some fun and post GIF's! What's more fun than that? :)
This neck piece is serving high fashion glam all day long! Such a stand out piece. This is definitely one of those items you wear with a solid color. All attention will be on your neck not your outfit!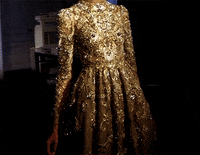 Step into the building like
BAM
! You'll definitely turn heads with this little number on. I mean seriously I'm
obsessed
.
Anyone else getting supernatural vibes from this picture? Lol but is it crazy that I love it though!?
So I just wanted to do something different for you all today.
Clearly
... Lol
So I love GIF's if y'all didn't know, they are so fun and interesting. They just add that extra wow factor to everything. I have seen (
and I'm sure you have to
) plenty of these splashed all across the internet. I have always loved them and thought where could I get some to put on my blog? I luckily stumbled upon a website called
giphy
. I am already in love! There are a TON of different gif's on there website its ridiculous. I seriously didn't think there could be so many out there lol. Well then again you do see them almost everywhere on the internet now a days.
You all should seriously check out there site, I'm sure you will find something to laugh at or admire. If you do check them out let me know by leaving a comment!
It's Friday guys so make sure you enjoy your weekend! Remember to stay positive. :)